Malouf Contour Gel Dough + Z™ Gel Memory Foam Pillow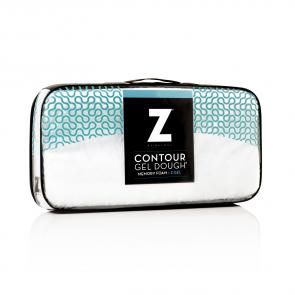 Malouf Contour Gel Dough + Z™ Gel Memory Foam Pillow
Uniquely combining three pillow technologies, the Contour Gel Dough® + Z Gel™ pillow offers maximum cooling and comfort. A layer of Z™ Gel extends over the entire surface of the pillow to capture and dissipate heat. Underneath the Z™ Gel is soft memory foam shaped in an ergonomic contour design that correctly aligns the spine. Accompanying the pillow is a luxuriously soft bamboo velour cover, excellent for sensitive skin and temperature regulation.
Unique combination for maximum cooling
Z™ Gel captures and distributes heat
Ergonomic contour design correctly aligns spine
Certifications OEKO-TEX®, , Size Availability King
Queen
Standard
Travel





King

Dimensions
35" x 16"
Loft
4"




Queen

Dimensions
24" x 12"
Loft
4"




Standard

Dimensions
20" x 12"
Loft
4"
Travel
Dimensions 16" x 12" Loft 4"
Reviews